Happy Summer Solstice Friends!!!
Our featured Mantra Meditation tonight will be the beautiful Gayatri Mantra, one of the oldest and most sacred mantras enshrined in the Vedas.  In this prayer, we honor the sun and ask that it bless us with its illuminating radiance, enlightening our minds and lighting our way.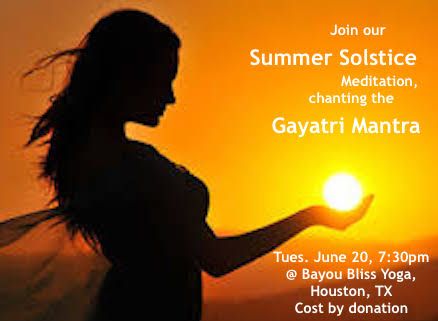 Here are the words ... 
Gayatri Mantra (Sanskrit) 
Om Bhur Bhuvaḥ Swaḥ 
Tat-savitur Vareñyaṃ 
Bhargo Devasya Dhīmahi 
Dhiyo Yonaḥ Prachodayāt 
There's no better way to welcome summer than by filling ourselves with the Sun's magnificent, life-giving prana in all it's abundance on this longest day of the year! 
See you at Bayou Bliss Yoga, 808 W Main St, Houston, TX 77006
We begin at 7:30 pm.
Peace, Love & Infinite Summer Solstice LIGHT, 
Jacinta LoveFreq