Jacinta expanded her musical pursuits into the metaphysical healing realms.  In 2009 she began merging two lifelong passions, music and healing into vibrational medicine.  Jacinta completed a Ministerial Bachelors Metaphysical degree and several courses in energy healing.  As a student of Jonathan Goldman and Eileen McKusick, she offers Vocal Toning Meditations and Treatments, Biofield Tuning and Sound Healing concert events.  Jacinta is an ordained Minister with the International Metaphysics Ministry offering Divine service. 
Meditation for Peace on the Planet
Within the expanse of our unconscious minds, exists a dimensional field shared by humanity.  This is the collective mind and we can access it consciously in deep states of meditation.  We can direct love, compassion, kindness and peace to flow through this collective unconscious simply by intending it, and when we do, we all benefit.
There is a tremendous amount of information available supporting the many benefits of cultivating a personal meditation practice.  But when we unite in meditation with a shared intention, we have access to a tremendous power capable of generating great change.
The impact of group meditation for peace has been repeatedly scientifically tested and proven to decrease warfare, crime, terrorism, and societal stress.  These effects grow exponentially with the size of the group,  that is, being greater than simply the sum of its group members.  With this understanding and the peace we all long for, I encourage you to find a meditation group and join this powerful wave of Subtle Activism. 
Here in Houston, I host the Meditation for Peace on the Planet Meetup which offers at least one meditation each month. 
Peace can exist for everyone when it is practiced and nurtured.
Mantra as Medicine & Vocal Toning
"

The voice is the only instrument made by God. All other instruments were made by man."
— Sufi quote
Group Meditations have the Power to create World Peace! 
Yes ... we are the ones we have been waiting for!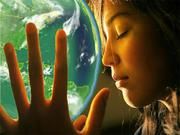 Chanting mantra introduces a language that 'speaks' to our whole being, initiating the restoration of physical health, balancing mental and emotional states, and elevating consciousness.  Mantras have specific meaning and purpose and their rhythmic repetition activates positive change by vibrating sound currents through the body and mind.  These sound currents are composed of coded vibrations that adjust patterns in the mind and brain. 
Vocal toning with intention is a powerfully transformative process. When we tone with intention, we entrain our whole beings to resonate with the intention set. Everything is in a state of vibration, including our physical bodies, our thoughts, and our feelings. Our vocal tones become energetic carrier waves that our prayers and intentions literally ride upon, awakening the Divine intelligence within us, prompting the transformation desired through entrainment.  The sacred sounds we create, perfectly and uniquely resonate with our physical body and etheric energy, because our unique vibration fits our unique being.  Toning is not singing.  It is a simple, accessible, profoundly powerful and yet mostly overlooked practice.  It promotes deep relaxation, gently transforming chaos and distortion restoring coherent energy flow. This in itself reactivates the natural healing process.  There are many accounts of vocal toning restoring health spontaneously.  This is sonic alchemy at it's finest!

Join us at Bayou Bliss Yoga in Houston Texas every third Tuesday from 7:30 pm where I present a vocal toning guided meditation.